---
You can pick and try any instrument you like.
Nearly a hundred different instruments are available to choose from.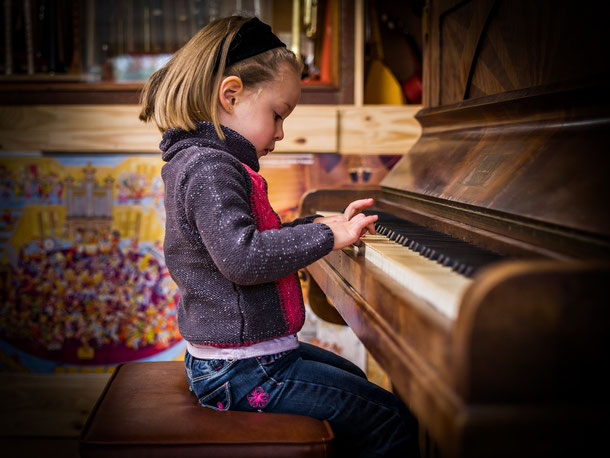 LISTE OF INSTRUMENTS and MUSICAL GAMES
available at the workshop, by categories:
CLASSICAL
Piano, violin, viola, cello, double bass, flute, piccolo, clarinet, trumpet, cornet, guitar, harp
MODERN
Saxophone, melodica, harmonica
EARLY MUSIC
Baroque and Renaissance Recorders (soprano, alto, tenor) Baroque, Classical and Romantic flutes
AFRICAN
Balafon (wooden xylophone), darboukas (North African Goblet Drum), djembe (West African goblet drum), Kalimba (also known as Mbira, a hand-sized piano), Kora (West African harp-lute – awaiting repair), Sekere (maracas from Nigeria and Benin), Udu (drum from Nigeria), Zurna (Algerian bombarde).
AMERICA
Agogo, Rainstick (South America), Guianese Rattle, Kena (flute from the Andes), brasilian whistle, nose whistle (Amazon), Ukulele (small Hawaian guitar).
ASIA
Bansuris (Indian flute), Dizi (Chinese flute), Gong, Shofar (Israeli horn), Tibetan bowl
EUROPE
Balalaika (Russia), Dvoynice (Romanian double flute), Irish spoons, small and big Sazs (turkish guitar), Tin Whistles (Irish flutes), Tenora (Bombarde from Catalonia), Tilinko (Hungarian flute).
FRANCE, TRADITONAL MUSIC
Diatonic Accordion (awaiting tuning), Galoubet (Recorder from Provence played with one hand)
UNUSUAL INSTRUMENTS
Butadrum, Chimes, Eoliphone (wind machine), Sea drums, thunder tube, harmonic tube, aquatic instruments
SMALL INSTRUMENTS
Duck calls, moo box, Boom whackers, chiming Chinese balls, castanets, claves, bells, rattles, cymbals, water recorders, slide whistles, pan flutes, small flutes, mouth harp, frog guiros and fish guiros, harmonicas, ratchets, kazoos, maracas, metallophone, ocarinas, egg maracas, egg shakers, miniature piano, small drums and tambourines, bullroarers, ronfle, bird whistles, serinettes, whistles, friction drums, pellet drums, tan-tan, triangle
MUSICAL GAMES
Giant musical slide (build your own slide, let the marbles rolls to create music –

16 metal notes each with a unique sound

)
Sound memory game (16 pairs of maracas to match) 
Melodies memory game (16 pairs of music boxes to match)
Dominotes (dominos with a metallophone)

Metallophone hammer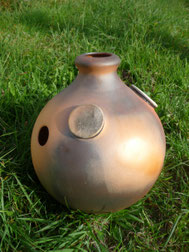 Other instruments will join the studio over time. Please feel free to make suggestions... or donations (instruments never played, manuals, books about art, music or instruments).
Please note: we also accept instruments "on loan". You can lend us instruments – they will be played by the members of the studio and I will take very good care of them. You can take the instrument home whenever you want.